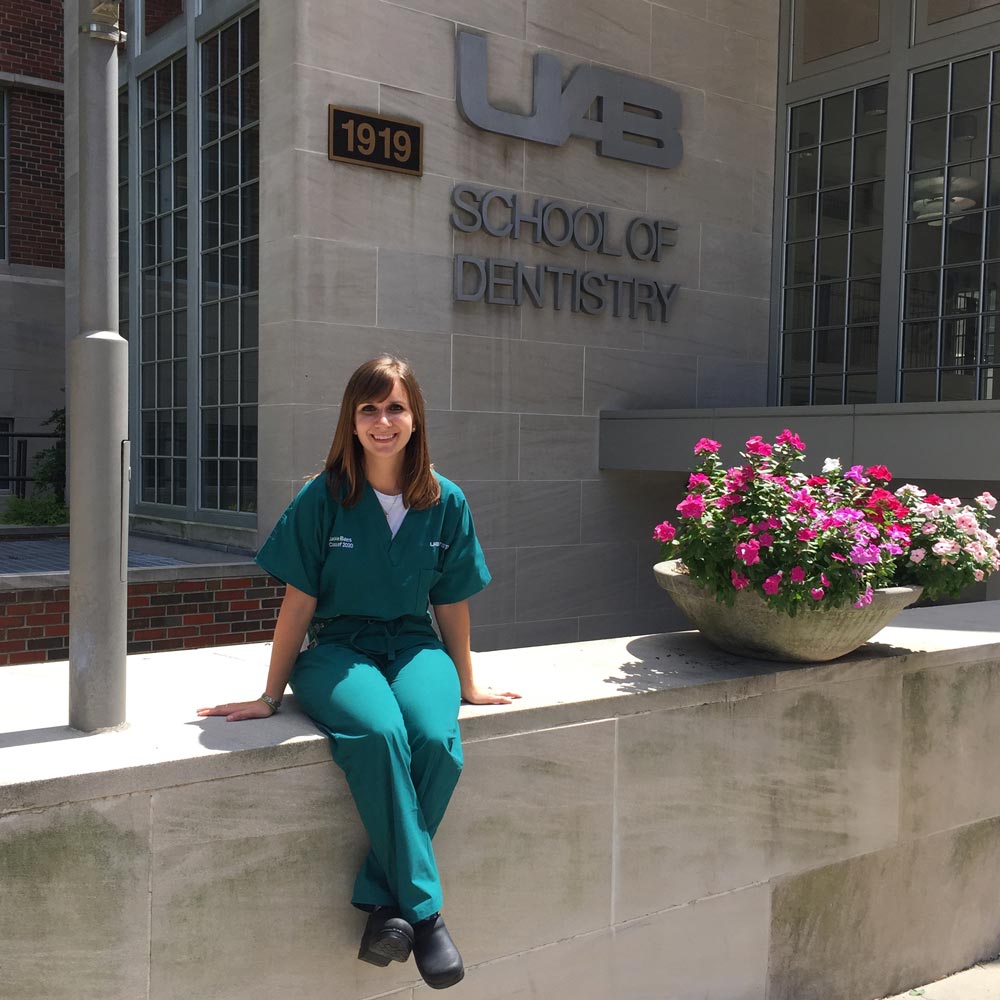 Auburn College of Human Sciences graduate Jackie Bates recently completed her second year at the UAB School of Dentistry. Bates credits her Nutrition Science degree with preparing her for the rigorous demands of dental school.
When Jackie Bates enrolled at Auburn University, she knew she wanted to pursue a career in the medical field.

With nearly a dozen dentists in her extended family, dentistry seemed the logical choice.

What may have been less obvious was her decision to pursue a Nutrition Science degree in the College of Human Sciences as a pathway to professional school. But now that she's two years into dental school at the University of Alabama Birmingham, Bates knows she made the right choice.

She feels better prepared for her studies than many students who take a more traditional route to dental school.

"It's been great," Bates said. "It's been a challenge but I definitely think Auburn and the Nutrition Science program prepared me very well for a lot of the courses I have taken in dental school."

Nutrition Science has proven to be fundamental to much of her coursework and labs. It has also helped her understand the underlying factors of good dental health.

"I would say the nutrition classes have helped me a lot. Most of my classmates just know the science side of things," Bates said. "Nutrition is actually a huge factor in dentistry most people wouldn't think of. We do cavity risk assessments and check what is bad in their diets. It's really helpful to have an in-depth knowledge of nutrition."

While a lot of her classmates who came from engineering or basic sciences may have taken one or two nutrition classes, Bates took more than 10 at Auburn. Her undergraduate degree caught the attention of the admissions committee as well.

"They definitely respect nutrition as a good educational background for dental school," she said.

Dr. Kevin Huggins is director of the Nutrition Science program in the College of Human Sciences at Auburn. He sees the program as a great path to professional school. Nutrition Science students often use the major as a path to medical school, but there has been an uptick in students like Bates applying to dental school. Students also use the degree as a stepping stone to physician assistant school, physical therapy school, chiropractic or optometry.

"Nutrition science is an excellent path for med and dental schools because our curriculum is grounded in the basics of nutrition science," Huggins said. "This means we emphasize nutrition focusing on the fundamentals of biochemistry and metabolism."

Those areas of emphasis have paid off for Bates.

"It was like I was going through biomedical sciences but I also had those in-depth nutrition classes," Bates said. "It was very beneficial for me and prepared me very well for dental school."

Huggins said the courses Nutrition Science students take in metabolism, in addition to courses in the College of Science and Mathematics, provide a solid base of fundamentals related to chemistry, cell biology and physics. "These provide the required courses for medical and dental schools," he said.

Most medical schools, however, do not require students to learn the basics of nutrition.

"The average time for instruction in nutrition education for most medical students is 16-20 hours," Huggins said. "This is alarming since diet can be a significant preventable risk factor for chronic disease. Our students come in with a much more extensive knowledge base in nutrition, and they can apply the principles they have learned in their undergraduate curriculum to cases they encounter in professional school."

Huggins regularly hears positive feedback from former students in medical school.

"Students have indicated to me that they are very well prepared for their first-year classes in metabolism due to their undergraduate course work at Auburn," he said.

Auburn's program takes what Huggins calls a "hard science" perspective, ensuring students are well-grounded in the basics of biochemistry and metabolism of nutrients. "Our upper-level courses are challenging but the students come out very well-prepared for professional schools."

In addition to the "hard science approach," College of Human Sciences students bound for professional school have another benefit.

"Since we are part of the College of Human Sciences, our students also have to take a course in human development and family studies, which can provide them with fundamentals that can help with fostering communication with patients and families."

Pre-health students also quickly learn that pre-health advisor Linda Bruner is an invaluable resource.

Bruner meets with students interested in professional school and helps them become competitive applicants by ensuring they meet academic requirements, seeking job shadowing opportunities, preparing for professional school exams, engaging in extracurricular activities and much more.

Bruner believes Nutrition Science students are as well prepared as any for professional school.

"Nutrition is a good fit because there are many health factors related to nutrition and diet that can be used as healing or preventative ways to treat patients no matter what the health profession," she said.

Students and professors agree the relatively small size of the college is an advantage. For Bates, it made all the difference.

"It's very warm and inviting," Bates said. "If you needed to get help or advice from an advisor, you never felt intimidated or like you were wasting their time. They all took an interest in you and wanted to help you be successful. I think that is one of the major advantages of it being a smaller college."

Huggins said the more personalized approach is important early in the careers of College of Human Sciences students who want to pursue professional school.

"Students who are going to be applying to professional schools need to understand from their first semester of their freshman year that they need to start preparing for the application process. By being a smaller college, we can provide information in a more personalized way at the beginning of their college careers."

And since most professional schools want to see undergraduates with research experience, the opportunities offered early at CHS can be a difference maker.

The college hosts a health professions reception in the fall, giving students a chance to meet and interact both with faculty and local health care professionals.

"While it is not expected for students to be involved in research their freshman year, they need to understand the importance and begin to think about the type of research they would like to do and with which faculty they can work with," Huggins said. "In addition, they will need to do shadowing with health care professionals. This event allows them to network and make contacts to support this."

As their academic careers progress and they begin to explore their research interests, students see the real value of a smaller college. They also discover the areas of research interest among CHS faculty are highly relevant to professional school courses of study.

"The fact that all of our faculty are focused on chronic disease prevention in the areas of obesity, diabetes and Alzheimer's disease, our research is very relatable to what they will encounter when they enter into professional school (and most likely a research interest of faculty at medical and dental schools who are on admissions committees)."

As Bates prepares to finish dental school and sets her sights on a private practice, she is grateful for the way she was prepared and how she was treated.

"I really loved it," she said. "It was like a little family in Nutrition Science. Advisors are really caring. They want you to succeed."